As a geologist, Gro Kyllingstad loves rocks. Not just studying them – as most of her fellow geologists do – but also climbing them. Spirit Energy's new SVP Norway Production seeks out the mountains of southwestern Norway as often as time allows to find inspiration and relaxation.
Well, hiking or climbing mountains are not really relaxing. It's tough. But I truly enjoy it. Outdoors in the beautiful surroundings with fjords and mountains I tend to leave everything behind – for me it's an incredibly effective and inspiring way to recharge my batteries.
Growing up in Sandnes, the neighbour city of Norway's oil capital Stavanger, many youngsters in the 70s and 80s were tempted by the rather new and exciting petroleum industry. So was Gro. After finishing high school, she set course for Bergen and geology studies at the university there. Graduating with a degree in geology her first role was at Z&S Geology. In the years to come different geology-related positions followed in Mobil, ExxonMobil, GdF Suez and ConocoPhillips, before she joined Centrica/Spirit Energy in 2007.
Gro says, "I spent 15 years in Mobil and ExxonMobil and was fortunate enough to work for some of the best leaders around at the time – Maury Devine and Kathy Pepper. Both great inspirations to me and I try to bring some of what I learned from them with me in my everyday work; let people do what they do best."
If I can pave the way for my colleagues to succeed, with the great teams we have in place, I'm confident Spirit Energy will be outstanding going forward.
Know the company
In 2007, when Gro joined Centrica/Spirit Energy, the company was barely established on the Norwegian Continental Shelf. Gro explains,
"It was a time of great entrepreneurship, big deals, discoveries and a lot of hard work setting up the business. And it was great fun. 13 years down the road I still feel the same way about Spirit. We can create the kind of company we want to be part of. Yes, it's rocky times right now with the coronavirus pandemic and low commodity prices, but I'm convinced we'll come out on the other side pursuing new and exciting opportunities."
We have come a long way on safety, but that can change quickly so we have to stay focussed – we can never relax on safety. And we are doing quite good on production and controlling our costs. Big challenges facing us are the lack of new discoveries and development opportunities. We have to work smart and hard to get to where we want to be.
Gro took over the leadership of Norway Production on 17 August 2020. Three weeks into her new role and a member of the Executive Committee she is as inspired as ever before. She says, "It's always a challenge to take on new roles, but I enjoy challenges. My leadership team colleagues have been highly supportive, as have the rest of the Spirit organisation. I couldn't have taken on a role like this if that was not the case."
Family time
Although rocks are important to Gro, both for studying and climbing, family comes first. With three grown-up children and two grandchildren, filling the time is no problem.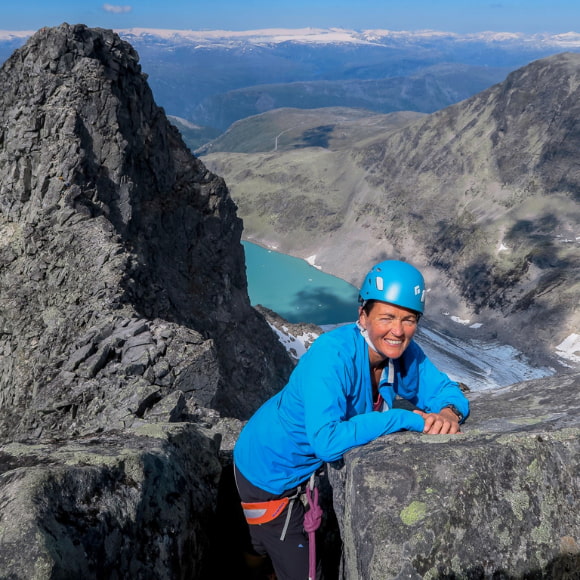 Gro shares: "Yes, I'm a grandmother. And it's wonderful. I try to spend as much time with the youngsters as possible, but preferably outdoors because their energy-level is insane. Perhaps something good will come out of it and they will develop an interest in the rocks as well. If not, it's still a boost to take them hiking. What could be better?"
Subscribe to our monthly Women at Work email to find out about new stories, events and career building resources.
---
About the author
WORK180
---
To help women find a workplace that will work for them, we prescreen employers on their gender pay gap data, parental leave policies, flexible working, and more. Find your next role on the WORK180 job board.
---